Sometimes life is about owning something just for the fun of it. My Mini expresses a part of me that is a little wild and crazy, even if it's just for the length of a short commute.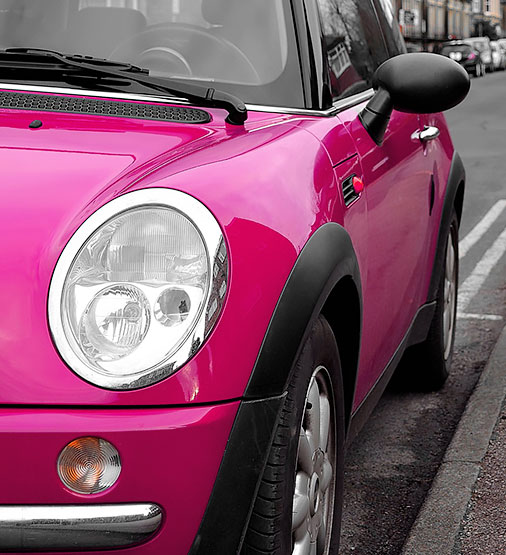 Early in my marriage to Dave he sold my car – just like that to a work colleague. His reasoning was simple: I had spoken about selling my car because I really didn't drive it a lot. He thought that he would take me from the talking phase to action. In his mind, he was helping.
Letting go
I liked my car. It was my first car, and I had bought it new. But every six months when my insurance bill arrived in the mail, I couldn't help but comment on how expensive it was to have a car that I drove so little.
Self-propelled approach
Over the next 8 years I conducted a little experiment. I walked as many places as I could. And when I couldn't walk, I took taxis. When that wasn't practical, I took Dave's car. It became evident very quickly that for an urban dweller like me, the cost of taxis combined with walking meant that a car really was a luxury that I could do without. I felt good with my choice and its positive contribution to the environment.
The Italian Job
One day I was on a flight from Europe back to Calgary. As usual, I settled in to watch multiple movies to speed the passage of time. I was intrigued by the movie title "The Italian Job" and quickly became engrossed. I enjoyed the story line, but I loved the Minis used in the heist. For the first time in 8 years I found myself wanting a car – a Mini specifically. Dave made it so.
I cared about two things in buying the car – the color and heated seats. I knew that Dave would look after the details about tires, the engine, standard or automatic, etc. And soon I had it.
Working at driving
The thing about this car is I really have to drive it. The manual transmission makes me work. I like shifting up and down. I like having to use the clutch. Being busy is enjoyable for me.
My Mini may be small, but it's full of power. Dave talks about the power to weight ratio. I talk about fun. Dave talks about horsepower and RPMs. I talk about my ponies.
The heated seats work for me. Even in the summer I turn on the heat. I feel loose and ready to drive.
Letting my hair down
Dave used to drive us to work early in the morning. Work was close to home, but we made the most of it. Dave would take a couple of right-hand turns at speed, sometimes even accelerating into the turn. With its stiff suspension and go-cart like feel, it never felt out of control to not slow for a turn. I used to have to hold onto the passenger handle above my seat to keep myself in place. That would usually prompt gales of laughter. We always arrived at work laughing and smiling from the driving experience.
I still don't drive a lot. Downtown Calgary has built out nicely, and restaurants and services abound. It is a very walkable city and that reduces my need to drive. But when I do drive, I love the experience in my Mini as much as I did almost 9 years ago when I got it.
Let my ponies run.