Last week Dave and I received an award from Grand, Canada's Digital Media Network Centres of Excellence, at its annual conference held in Ottawa. It was a lovely event, mostly because the people who were involved in the award conveyance are all people who we highly respect and with whom we have had many interactions over a long period of time.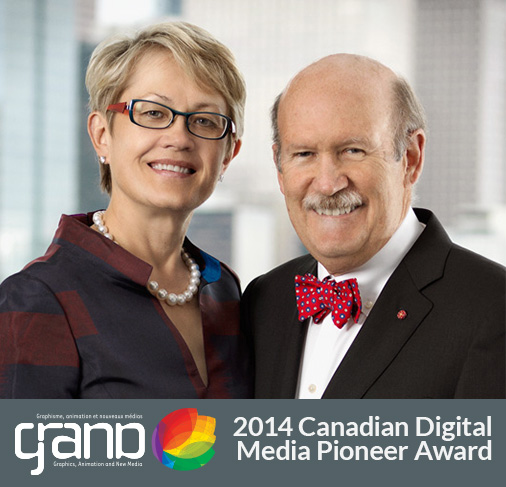 Like all of the awards that we have received, it really was on behalf of all the passionate and capable people who worked with us for 25 years at SMART Technologies. The words that were spoken in our introduction at the event really were about those people – we may have encouraged them and pulled them together in a high-functioning team, but they did the work to change the way that the world works and learns. The story of what we accomplished is what they accomplished.
The written comments from Grand in recognition of the award included the following:
Nancy Knowlton and David Martin are entrepreneurs and Canadian Digital Media Pioneers. Their impact in digital media has been profound across Canada and internationally. They recognized in the 1980's the potential of touch-based interaction and together they co-founded SMART Technologies. Because of their insight and leadership, SMART's large touch displays are now in use worldwide.
Long before advanced touch technologies became commonplace, David and Nancy believed that large, touch-sensitive information displays and accompanying software had the potential to be an important technology. Together they founded SMART Technologies Inc. in 1987, where they brought their vision into market. Under their guidance, SMART products were created that embodied the essence of digital media. Products ranged from a large variety of single-touch and multi-touch displays designed for boardrooms and classrooms, to digital clickers that allow multiple students to share a common display, to software specifically designed to support collaborative work, education, screen sharing, public presentations and brainstorming. Over the years, these innovations became standard fixtures in many places, but especially in schools – 90% of the classrooms in the UK are equipped with interactive whiteboards.
Beyond simply building products, David and Nancy have had profound influence mentoring and inspiring Canadians in high technology. As members of numerous panels, boards, and advisory councils, their vision has helped shape thinking around technology ranging from the grass roots level up to the provincial and federal policy level. They have also been steadfast supporters of university-based research. They and SMART Technologies Inc. have been deeply involved in directly supporting a number of international research conferences, as well as providing cash and in-kind support for individual and group research grants across Canada. Perhaps the best examples of this are their encouragement and support for two NSERC strategic networks, NECTAR (Network for Effective Collaboration Technologies through Advanced Research) from 2004-2009, led by Dr. Ron Baecker, and SurfNet (network for surface computing interfaces and software engineering) from 2010-2015, led by Dr. Frank Maurer.
Nice to read, but nicer yet for all of the people at SMART who brought the ideas to life for a variety of touch products over the years along with many other products.
Thanks to Grand and all who participated in the event. Thanks to our colleagues who worked so ably alongside us.